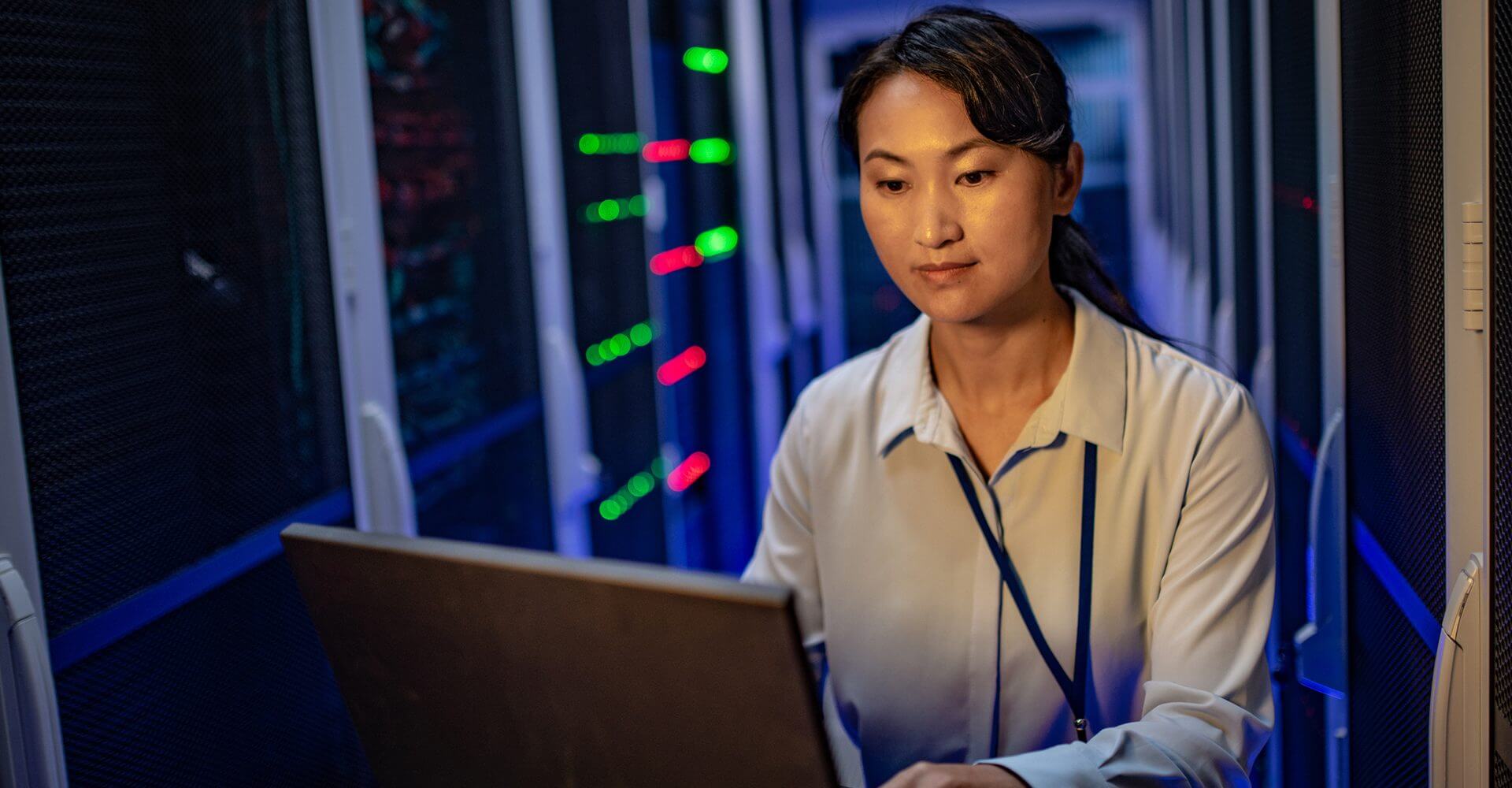 Learn about the progress in ESG disclosure and challenges in procuring renewable energy for Chinese data centers.
ESG Disclosure and Renewable Energy for Chinese Data Centers
Thornburg has a long history of investing in the data center industry globally and was an early foreign investor in Chinese equities. In recent years these specialties overlapped as we investigated Chinese data center firms and established positions in two leading companies.
Data centers have immense power needs to run computer servers and powerful cooling systems. A modern hyperscale data center consumes up to 50 times more energy per square foot than a typical commercial office building.
Despite their heavy energy consumption, modern hyperscale data centers are much more energy efficient than traditional "on-premise" data centers or server rooms. For example, a 2020 study by Microsoft found its cloud operations were 52% to 79% more energy efficient than traditional cloud computing operations. Even as overall energy use grows, the shift of IT workloads from on-prem data centers to the public cloud reduces the energy intensity of the industry.
Cloud Computing and Climate Change
The structural shift to cloud is occurring across sectors and geographies and is driving rapid growth in data center demand. Consequently, data center energy demand has also grown rapidly. In China, the industry consumes a small but expanding portion of national electricity production. Data centers consumed about 1% of China's total electricity in 2020 and the industry's power consumption is growing over 60% per annum, according to the China Electric Power Enterprise Federation.
This energy use comes at a cost to the climate. Coal-fired power plants are the main source of power generation in China, so data centers' electricity use has a large carbon footprint. The modern data center industry is concentrated around major cities such as Beijing, Shanghai, Shenzhen, and Guangzhou, where renewable sources are scarce and coal generation dominates the grid electricity mix. Our data center companies' high energy use and large scope 2 carbon emission expose them to the risk of greater climate regulation and a market price on carbon.
Renewable Energy Targets for U.S. Cloud Companies
Our experience with Western data center companies informed our engagement with our Chinese investments. For instance, we knew major U.S. cloud companies had adopted bold renewable energy targets. Alphabet, Facebook, Microsoft, and Amazon all have ambitions to power their global operations with 100% renewable energy. These cloud companies are the main customer group for the independent data center industry. The U.S. data center companies have responded to their customers' targets by stepping up renewable power sourcing and investing in energy efficiency.
Chart 1: Microsoft Cloud Operations Energy Efficiency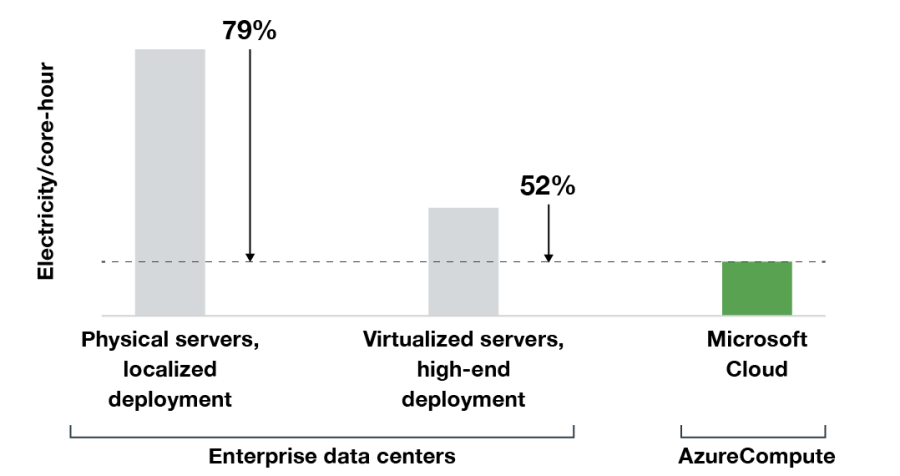 Source: Microsoft
Table 1: Renewable Energy Targets in U.S. Data Value Chain
Source: Company Reports
We observed that certain U.S. data center companies approached renewable energy sourcing early, proactively, and strategically. Equinix is the clear leader in this regard. In 2015, Equinix set a target of achieving 100% renewable sourcing and has steadily progressed toward that goal even as the size of its data center portfolio doubled. In 2019, Equinix purchased renewable energy for 92% of its global electricity consumption, as shown in Chart 2. Because renewable energy is not consistently available in all locations, Equinix has three channels for achieving this level of coverage: direct power purchase agreements, renewable energy certificates, and virtual power purchase agreements.
Chart 2: Electricity and Renewable Energy Coverage
Source: Equinix Sustainability Report FY2019
For Environmental, Social and Governance (ESG), Engagement Matters
Our engagement with the China data center industry has spanned three years. Over this period, we spoke with company CFOs and investor relations officers approximately once per quarter. In 2019, we conducted on-site due diligence in China, visiting data center facilities in Shanghai and Beijing and interviewing campus staff. In 2020, we began engaging with our Chinese data center investments on ESG issues. Our ESG engagement had two objectives: to encourage a greater level of ESG disclosure and to develop renewable energy sourcing strategies.
Historically, the industry has a poor record of disclosure on sustainability issues. For example, no publicly listed Chinese data center providers released an ESG report before 2020, and few even discussed sustainability issues as risk factors in their annual reports. In our conversations, our companies expressed the view that they were relatively early in considering ESG issues and therefore did not have much progress to report on. We believe that regular and consistent public disclosure is helpful because it focuses management attention on material risk factors and motivates progress, even from a low baseline.
Our second focus was to encourage companies to develop renewable energy sourcing strategies. Like their U.S. peers, the Chinese data centers' largest customers are the local hyperscale cloud and internet companies, such as Alicloud, Tencent Cloud, and Baidu Cloud. However, unlike in the U.S., the Chinese cloud titans have not set company-wide renewable energy targets. We believe it is possible that Alibaba and Tencent could adopt renewable targets in the future. As these two companies are driving most of data center industry demand growth, we have encouraged our data center holdings to proactively investigate renewable energy sourcing strategies as a competitive differentiator.
Benefits of Greater ESG Disclosure
We are pleased that both of our Chinese data center holdings are releasing their inaugural sustainability reports. We communicated with management the material risk factors that we believe they should consider, referencing the relevant Sustainability Accounting Standards Board (SASB) risk factors and our investment experience with the U.S. data center industry.
From an internal perspective, we believe greater disclosure will focus management attention and motivate progress, including bringing accountability across the firm. From an external perspective, greater disclosure could expand the pool of potential investors and lower the companies' cost of capital, which may provide an economic advantage in this capital-intensive industry.
While our engagement on renewable energy sourcing remains a work in progress, it has enhanced our understanding of the data center companies' regulatory environment and supply chain constraints. We learned that renewable energy sources, such as wind, solar, and hydro, are more available in remote locations in China, far from where data center demand is concentrated in dense coastal cities.
This presents an investment challenge for managers, as data center companies located in tier 1 cities enjoy stronger barriers to entry and they own scarce, valuable assets. At this point, we believe these companies offer better investment value.
Currently, the companies' ability to procure renewable energy in tier 1 cities is limited because they are reliant on the power mix available from the local grid. However, we believe that over time these companies will be able to increase their renewable sourcing following a similar playbook to Equinix. We expect our companies to evaluate green power purchase agreements, direct co- investments in renewable projects, and green energy certificates to offset their energy use.
In addition, we continue to push for greater disclosure to close the gap on sustainability metrics with competitors who are principally located in remote locations and therefore have readier access to renewable power sources.
Progress in ESG Disclosure and Renewable Power Sourcing in Chinese Data Center Companies
ESG considerations among Chinese data center companies are still in their early stages. But they are likely to track the progress of U.S. data center companies over time. This reinforces our investment thesis about the adoption of modern cloud services in China and presents an opportunity for our engagement to quicken the adoption of best practices.
Our engagements with management make us optimistic that the companies are approaching both ESG disclosure and renewable energy sourcing in a thoughtful and economically responsible manner. We intend to continue to engage with our portfolio companies and tap our experience from Western markets to share best practices.
We expect companies that show progress on improving ESG disclosure and increased renewable sourcing will be seen by their customers as differentiated solutions providers. ESG leadership in the data center industry can lead to competitive advantages by lowering the cost of capital and enhancing the customer value proposition.
The transition of information technology workloads from legacy on-premise server rooms to modern data centers not only presents a promising investment thesis, but also has a net positive effect on climate change mitigation efforts by improving the energy efficiency and lowering the carbon intensity of the information economy.
Our insights. Your inbox.
Sign up to receive timely market commentary and perspectives from our financial experts delivered to your inbox weekly.