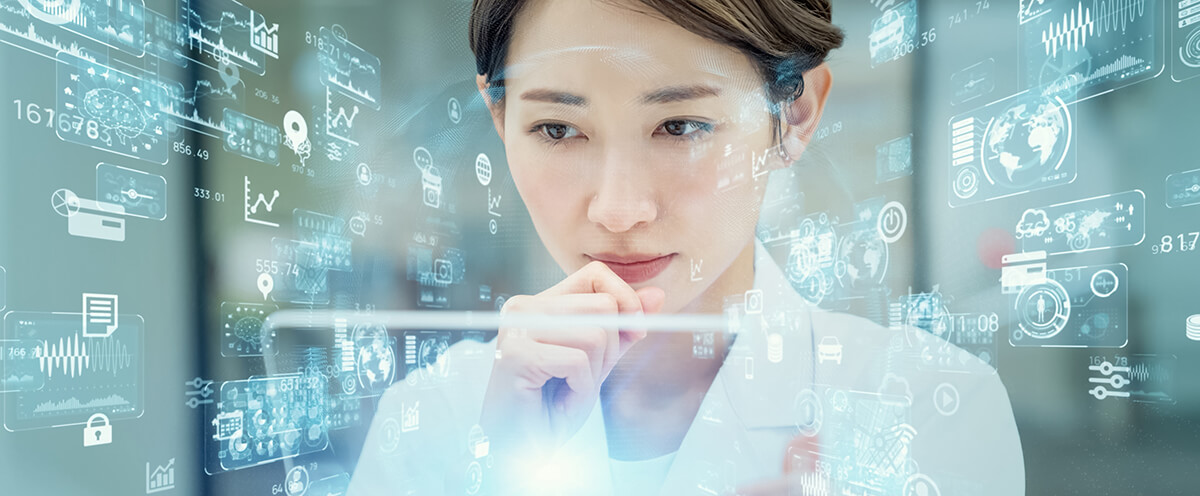 International growth investing: we're all tech companies now.
Read Transcript
Part II: The Nature of Business Has Changed in the Digital World
Nick Anderson: Overall, across the economy, we estimate that less than 10 percent of transactions are digital in some form. So there's a long runway for growth.
Hi. Welcome to another episode of Away from the Noise, Thornburg Investment Management's podcast on key investment topics, economics, and market developments. I'm Zach Wehner, a client portfolio manager at Thornburg. We're once again, we are joined today by portfolio managers Emily Lavelle, Nick Anderson, and Sean Sun, who cover international growth equities. We'll pick up from where we left off in part one of this podcast, shifting our discussion to the change in the nature of business in today's digital world. Sean, on the last podcast, Emily ended by talking about power law and the importance of a long-term mindset when investing in growth equities. Why do you think a long-term mindset is especially important in the current market environment for growth investing?
Sean Sun: We, we are focused on the long-term potential of our businesses, and we are not trying to time rotations, like with what we've seen, recently, with the kind of rotation towards more value-oriented and, and cyclical names. You know, what we believe is that, growth is what you get and value is what you pay. And I'd argue that given our time horizon, many of the stocks that we own are actually value stocks once you look out 3, 5, 10 years from now, because, because of the power of compounding over time, and also the power of the exponential growth of some of the more disruptive businesses that we own. you know, exponential growth is more important than ever given how much technology and digital transformation has permeated our economies. You know, digital-focused businesses are really only about 9 percent of our economy, but yet represent 33 percent of all incremental growth out there. So what we wanna focus on, and what we focus on, is not, you know, a company that can grow really quickly, early in the economic cycle for next year. But leading businesses that are either disruptive or really pulling away from peers each and every year because of strong, competitive advantages, investment and innovation, brand, whatever the case may be. So we're really trying to, capture the power of compounding over a full business cycle over a full, over a long period of time, and not to focus on, you know, near-term rotations that we may be seeing.
Zack Wehner: Nick, let's turn to you here, I really want to get your thoughts on power law and the duration of growth and how that'll impact the future of growth stock returns.
Nick Anderson: Yeah, maybe I can make two points here. the first is, to tie it in with the original, discussion that we had about how the growth investing landscape has changed over the last 15 years, is the rise of these digital businesses. there's something fundamentally different about, a digital company than an analog or a linear company, and that is that it has increasing returns to scale. So most businesses, in, throughout, you know, human history have had decreasing returns to scale at some point. At some point they, build enough factories, or enough stores, that the returns begin to erode. and that's just a, a feature of operating in, in a physical bricks-and-mortar world. But when there's almost zero incremental unit cost, you have something, called increasing returns to scale. And why this is important for us is growth investors is it means that the traditional mean reversion you expect to see, and frankly that underlies, an assumption that underlies most conventional economics and most conventional, investment approaches, that no longer applies. And when we look at the same growth investing landscape today, many of the leading companies are digital businesses and have these, increasing returns to scale already evident in their financials or potentially in their future. So we think that investment approaches that, emphasize meaner version, including many value strategies, fail to appreciate the, how the nature of business has changed in the digital world. We own many companies that, demonstrate these increasing returns to scale and, that will continue to grow, as Sean mentioned, at, exponential rates and compound our wealth and our shareholders' wealth, long into the future. But I'd also like to address the issue about whether, growth investing can start to lead again. This is clearly one of those exceptional periods where investors' time horizons are shortening from years to months or even days. The market is focused on where prices are gonna go tomorrow, what bond yields are going to do tomorrow, not what companies' long-term prospects are. And we know that in the long term, these things are background noise to the real driver of stock prices, which is long-term earnings growth. When you sell a stock that's down in an environment like this, like the environment we're in today, you're realizing a loss that's permanent. And you have to be right not only on the timing of the sale, but also when you're gonna b uy back in. And if you get that wrong, you risk compounding your error and missing out on the immense wealth that's been created by owning growth companies, quality companies, especially technology companies over the last 10 to 15 years. We expect that to continue to be the case over the next 10, 15, 20 years, particularly following our framework of quality businesses with durable growth prospects at reasonable valuations.
Zack Wehner: Those are great points, Nick. I want to switch topics a little bit here because we've alluded a lot to secular trends and themes and growth investing, but I would like to talk about them directly. What themes and trends do you think are important going forward, and how do you take advantage of them?
Nick Anderson: One of the themes that we observed in the economy and businesses and is well represented in our portfolio is digitization. You know, there's this famous saying that software is eating the world, which was said by Marc Andreessen, the, the famous venture capitalist. But in our opinion, software has already eaten the world. There are many companies that you wouldn't think of as software companies that are effectively becoming software companies to remain relevant and to compete. We've seen, many of the US banks report increasing spend on IT and technology development. This is now a critical, element of their business models. Even these traditional businesses that have been around for centuries, technology is, abso, absolutely essential to remain relevant and competitive. There are companies that enable this transition, and the digitization of, of enterprises. One that's in the portfolio is, Nomura Research Institute, which actually, was, originally part of Nomura, the bank in Japan, but now is a leading IT services company, and it helps other Japanese enterprises, conduct digital transformation. So you can think of NRI as an, consultant that will come into your company and will help you, if you're a retailer, build a e commerce website or, implement a digital point-of-sale system. These activities are all lumped under the category of digital transformation, which is a catchy buzzword, but basically it means, embedding software and embedding digital technology deeper into your company to make it, competitive and relevant going forward. NRI is a prime beneficiary of digitization in the Japanese economy. Japan, despite being a rich, developed country, is many years behind the US and Europe on really any measure of, digitization. You know, you look at the amount of spending, or IT workloads, that are in the Cloud in Japan, it's, roughly a third the level of, of the west. If you look at IT talent as a percent of the workforce, it's much lower in Japan. So, Japan is, is far behind, and Nomura Research Institute, NRI, is the, the enabler of Japanese enterprises, digitizing their businesses, and they're seeing an acceleration in growth, recently. In the last four quarters, they've continued to accelerate the growth of their digital transformation business, which is now over 50 percent of revenues and growing at double digits. This is a secular theme, as you mentioned, Zach, that we expect to continue for many years to come.
Zack Wehner: Yeah, digitalization is a big one and we've talked a lot about that over the last few years. But what are we missing, Emily? Are we missing any themes out there that investors can take advantage of?
Emily Leveille: Yeah, you know, I think, one that, that maybe seems obvious, but I think investors have, have recently soured on a little bit is, is e commerce, and particularly e commerce outside of the United States. But even within the United States, you know, this is such a beneficiary, from Covid, and we saw a lot of demand and, and an acceleration of penetration, I think, pulled forward during Covid that a lot of investors have been left, sort of unsure around, you know, what the future growth rates will be and what the outlook is for, for e commerce businesses going forward. But, when I look at the, the fundamentals, of these, of these businesses, and just the underlying structural growth that remains to be captured by e commerce, I still see a lot of runway for growth. And, and it's one of the areas that we still very firmly believe will deliver strong returns for us in the portfolio. you know, if I look, for example, at Latin America and, Southeast Asia, penetration of e commerce, even after the pandemic, is still only hovering around 10 percent of total retail commerce. C, in Southeast Asia, has a dominant market share in the region. Mercado Libre, which we own as well, is a leader in Latin America, and as these businesses continue to expand, their value proposition to customers, you know, more and more categories can be effectively purchased online, which will only serve to further increase this penetration. So we still think that there is huge potential for these businesses to grow their core commerce businesses, but also, you know, other adjacent businesses, for example, their advertising businesses, which are, which are very nascent and, you know, if you compare, for example, to Amazon's advertising business, they're less than a quarter of the size relative to the GMV that is processed through their platforms. There are also loyalty programs and better logistics offerings, financial services to both their customers and merchants, and all of this serves, in, in my opinion to, to increase the value proposition to customer, which makes them more likely to – sorry. All of this serves to increase the value proposition to customers, which makes them more likely to continue to use these businesses in the long run and purchase more goods and services online relative to, going in, in store where a selection is more limited, you know, price, price comparison might, might not be as simple. safety may be an issue in, in emerging markets, as well, and financing might not be as readily available. So e commerce is, is still an area that I think has a long runway for growth. I think sometimes we, we hear about these trends for so long we think they must have already happened. But actually, I think there is a lot of room to grow for, for these businesses in, particularly in emerging markets, but, but even in developed markets, as well.
Zack Wehner: Sean, outside digitalization and e commerce, what are some of your favorite themes going forward?
Sean Sun: Yeah, a theme that has been in the news a lot recently is this theme of the Metaverse. You know, Facebook has very famously now rebranded themselves to Meta. you know, Walmart has announced, you know, initiatives related to the Metaverse, and even more recently in the news, you know, Microsoft has announced that they're paying $69 billion to acquire Activision Blizzard. So I think, you know – I actually did a podcast on Metaverse, a year and a half ago, so go check that out. But, you know, what I think is that the Metaverse is, like my, like Zuckerberg says, it's gonna be this evolution from where we're at today, which is the internet, towards a more new internet. I mean, it's not gonna be, you know, hugely evolutionary, but it's, this is the trend where things are going where we're gonna kinda live even more of our lives digitally; we're gonna do more work online, more play online, more socialization online. So it's still a relatively new concept. we see a lot of companies trying to capture the opportunity. And the way we're thinking about it is to, you know, be exposed to various beneficiaries of this trend. You know, we are exposed to what I call, like, the Layer 0 of the Metaverse, which is like the underlying boundaries, chips, and semiconductors. I think it's also important to own, like, various software tools that, that help developers create, software for the metaverse. Cloud platforms are very important. And I, what I think is also extremely important is content companies, like Microsoft's acquisition of Activision Blizzard. Video games an area we have investment exposure ties really well in with the Metaverse given the intersection of kind of playing and socializing. And also the video game industry is a huge industry in its own right. Global spending is approaching $200 billion, there are nearly 3 billion people who play video games globally, so transitioning your activity, from playing games in a very digital, online environment to doing even more of your personal life online in the Metaverse is just a natural evolution, and I think that's, that's where the world is going and we're trying to, make sure we have exposure to that theme through various types of different companies in the ecosystem.
Nick Anderson: You know, Sean has talked about the Metaverse, and Emily has talked about low e commerce penetration. Overall, across the economy, we estimate that less than 10 percent of transactions are digital in some form. So there's a long runway for growth, in the Metaverse, and e commerce, and just, digital transactions penetrating deeper and deeper into the economy. And just as an example of this, one of the more remarkable statistics reported by the companies we follow was Redfin's observation that, in December of 2020, 63 percent of home buyers made an offer on a home they had not seen in person. Now, this isn't just viewing a home online, or viewing a home and then going to see it. It's making a offer, to buy a home, you know, one of the largest financial transactions in your life, and trusting the internet, as an integral tool in that process. So we think this is just an example of where, technology and digital businesses are going. Companies that position themselves for, to enable this future will, continue to benefit.
Zack Wehner: Thanks again for Sean, Nick, and Emily for joining us. One of the exciting aspects about growth investing is what drives future innovation. Also, I want to thank you for listening. You can find this and other episodes of Away from the Noise at thornburg.com/podcasts as well as, as well as on Apple Podcasts, Spotify, or wherever you prefer to listen to podcasts. Please rate, subscribe, and review us. You can also visit thornburg.com to see all of our market commentary. Thank you, and please join us for the next episode of Away from the Noise.
Our insights. Your inbox.
Sign up to receive timely market commentary and perspectives from our financial experts delivered to your inbox weekly.