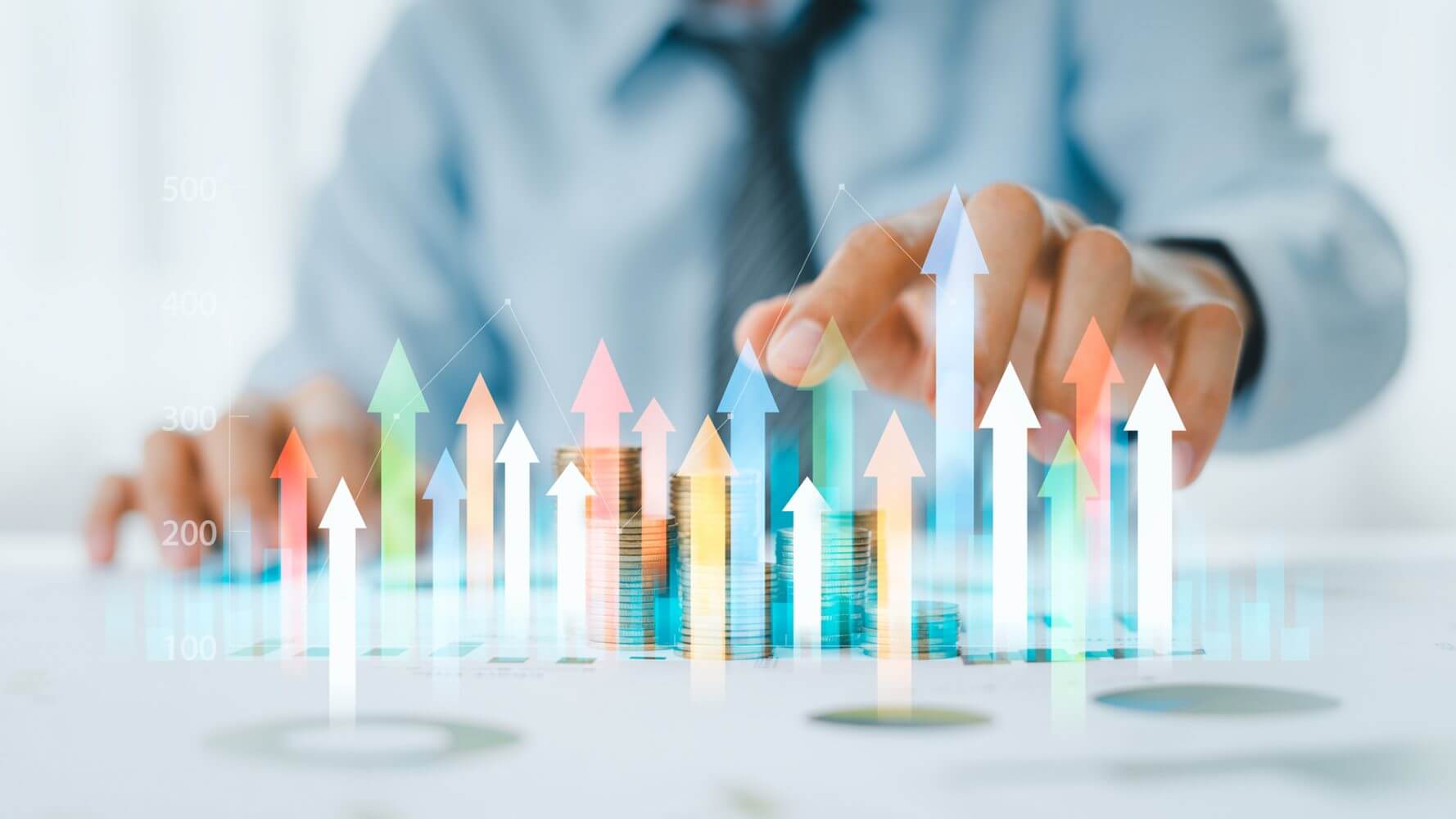 Whether inflation is transitory or longer lasting, we believe quality growth stocks offer better protection against high inflation than bonds and cash.
Spiking inflation has become the primary risk animating markets as the world recovers from COVID-19. It remains an open question whether higher inflation will be transitory or longer lasting. Regardless of the inflation trajectory, we believe quality growth stocks offer better protection against high inflation than bonds and cash.
The Silent Tax on Investment Returns
Unexpected inflation is a silent tax on real returns across all asset classes. Bonds and cash fare especially poorly. Bond income is fixed in nominal terms, and cash loses its purchasing power at the inflation rate. Commodities and precious metals are commonly thought to offer inflation protection, but their real-world record in this regard is mixed. It is too early to tell whether digital assets like cryptocurrencies will hedge against inflation as well as their advocates proclaim.
Of the major asset classes, only equities offer the prospect of growth in real terms. The evidence argues for staying invested in stocks through inflationary cycles. Within equities, we believe quality growth businesses at reasonable valuations can outperform in an environment of more persistent inflation.
Two Implications of Inflation to Consider: Share Prices and Fundamentals
When evaluating how inflation impacts equities, there are two effects to consider: on stock prices and on company fundamentals. Stock valuations may suffer as interest rates rise through a higher discount rate on future earnings. When it comes to fundamentals, higher quality companies should be able to grow their earnings above the inflation rate, unlike commodity companies that are price-takers. Balancing these two competing effects of inflation—on stock valuations versus company fundamentals—is the focus of our analysis in building an international growth portfolio.
The impact on stock prices is more straightforward. Rising rates are usually a headwind for growth stocks. Rising inflation brings higher nominal interest rates. These higher discount rates mechanically reduce the present value of future cash flows for all assets. Assets with longer duration growth are penalized more by the higher discount rate. Growth stocks derive a greater portion of their value from earnings that will occur many years in the future, and thus are more sensitive to changes in interest rates than value stocks, which have shorter-duration cash flows.
In short, the effect of rising inflation and interest rates favors value stocks over growth stocks. However, the market is forward-looking. In recent months, the market has already begun incorporating higher rates into the appraisal of stocks. Investors in growth stocks may take solace that some of this repricing has already occurred. The solution is not to abandon growth, but to mitigate valuation risk through fundamental stock picking. The reasonableness of a growth company's valuation becomes more important during periods of rising inflation and interest rates.
We Seek Pricing Power, High Gross Margins and Low Capital Intensity
The second effect of inflation is on company fundamentals. Independent of what happens to the stock price, how will a company's earnings change if inflation is higher than expected? Here we believe a strategy of owning high quality companies with durable growth prospects is excellent inflation protection. Quality companies have pricing power, high gross margins, and low capital intensity. These three characteristics protect company earnings power from inflation. Low quality companies that operate in commodity markets have the opposite characteristics and should be avoided over the long term.
Start with pricing power. We seek companies with the ability to increase unit prices faster than unit costs without suffering demand destruction. Economists call this condition low price elasticity of demand. It arises when a company has a strong position relative to competitors and delivers exceptional value to customers. We evaluate brand strength, market and industry structure, and switching costs because these factors will determine whether a company can increase prices without losing customers.
High gross margins are closely related to pricing power. Gross margins measure the markup on the cost of goods or services. A company with high margins will be less affected by a rise in input costs because they are less material to overall profitability (see table below). In general, companies that have highly variable cost structures with low margins and returns to scale will suffer more from inflation. For example, labor-intensive companies will have to raise wages, which will offset any incremental revenue from higher prices, so at best they can keep margins steady. Conversely, companies with high margins, largely fixed cost structures, and large economies of scale—such as technology, software, and payments companies—will enjoy the benefit of inflation adding to the top line without a commensurate rise in costs.
The final area for analysis is capital intensity. To get at this issue, investors must go beyond the income statement and analyze companies' balance sheets. We target asset-light companies with low maintenance reinvestment requirements. Companies that must heavily reinvest just to maintain current earnings power will face more severe headwinds from inflation as asset maintenance costs rise. Conversely, asset-light companies generate most of their earnings in cash and do not need to reinvest to grow. This shields them from the silent tax of inflation on the balance sheet.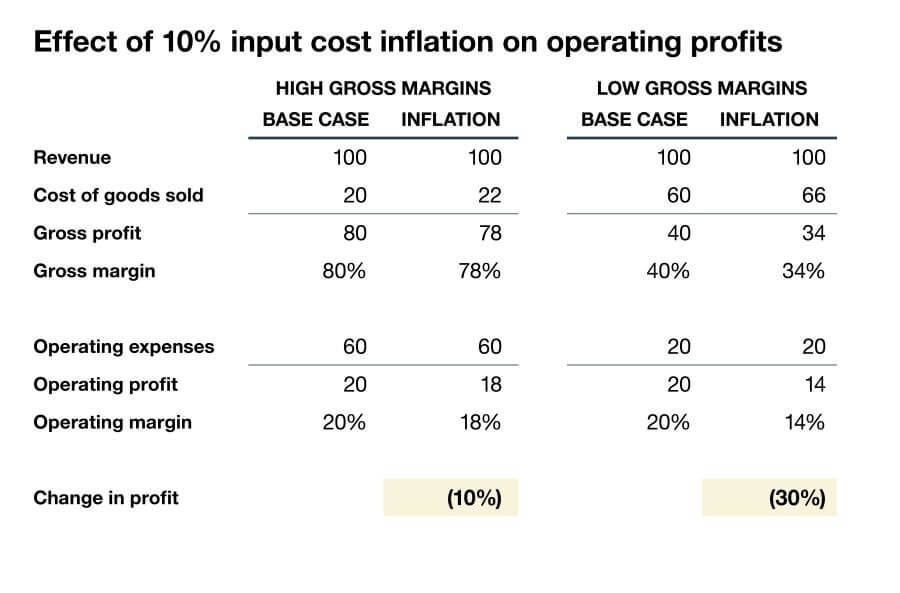 Source: Thornburg Investment Management. Data is a hypothetical example.
In order to beat inflation, growth is required. Not all growth is created equal. Growth based on heavy capital spending can be value destructive in inflationary environments. Quality growth through pricing power and organic volume growth will be value accretive regardless of the inflation backdrop. While this style of growth investing may be hard to appreciate in the short term as valuations gyrate with interest rates, we believe it remains the best way for investors to benefit from long-term company value creation.
Our insights. Your inbox.
Sign up to receive timely market commentary and perspectives from our financial experts delivered to your inbox weekly.