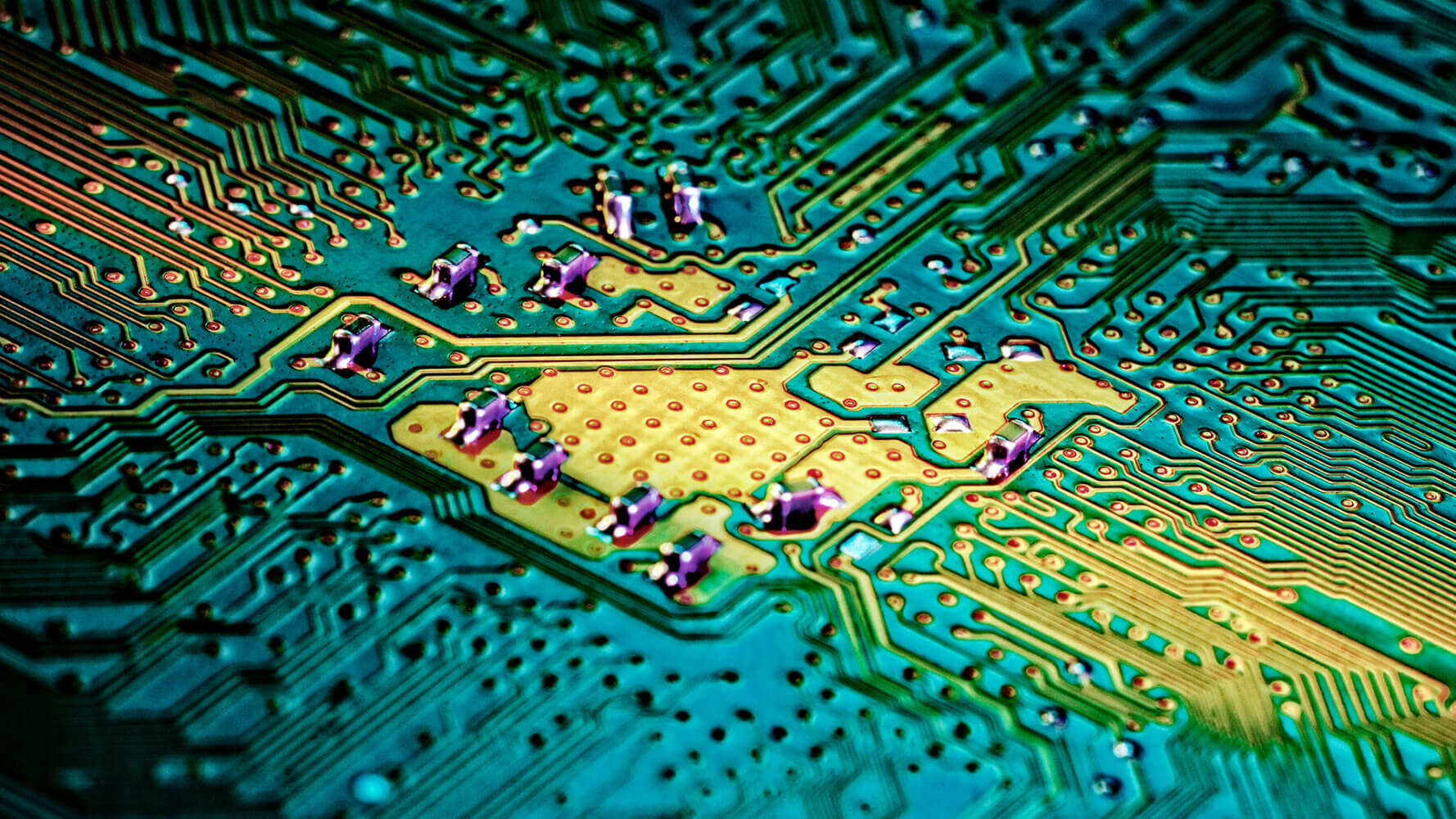 The semiconductor market has been through several boom/bust cycles, but a niche area of the industry may provide growth and investment opportunities.
Many of the world's most advanced semiconductors cannot run without a thin film called ABF substrate, making this material essential for semiconductor production at major chipmakers like Taiwan Semiconductor, Intel, AMD and Apple. In this article, we shed light on ABF substrates and their niche but critical role in the semiconductor manufacturing process, and we also examine the type of supplier poised to benefit most from ABF demand growth.
What are ABF Substrates?
Ajinomoto Build-up Film (or ABF) substrate is used as an insulating layer that plays an important role protecting semiconductor chips, while also ensuring electrical connectivity so that different components of a chip can be attached to one other. For example, in the illustration below, layer "B" is the ABF substrate material placed between the integrated circuit and the PCB (printed circuit board) motherboard. It is a crucial constituent within the larger packaging of all high-performance chips that are used in just about every high-tech device, from personal computers to smartphones to servers. Generally speaking, the higher the chip's computing power, the more ABF material is required to ensure its proper operation.
ABF Substrate Layer Provides Insulation to the Circuit Board
Source: Ajinomoto Group
Demand for ABF Substrates Has Soared
ABF substrates have been in use since the 1990s. Demand for them surged during the internet boom in the early 2000s and has softened over the past few years amid slackening PC demand. Looking ahead, however, we believe a number of catalysts will bring about exponential growth in the ABF substrate market in 2023 and beyond. For example, with a growing global population, the demand for consumer electronics as well as digital technologies, such as 5G communication, artificial intelligence and cloud computing will fuel an insatiable appetite for more and faster computing power. As a result, all next-generation semiconductor chip designs that are coming into market in 2023 and beyond will require even more ABF content. That, in turn, should lead to a period of rapid expansion in the compound annual growth rate (CAGR) for this market, as seen below.
Exponential demand growth for ABF market
Source: Verified Market Research
It is also worth noting that demand for end devices has undergone a structural shift from consumer devices, such as PCs and tablets, to more enterprise-related applications, such as artificial intelligence and servers. These higher tech solutions will require more advanced chip designs. Thus, the demand for ABF content will not only increase, but also evolve and become more technically complex in order to meet the needs of these higher-performing semiconductor chips. Lastly, the continued undersupply of ABF substrates for advanced substrate packaging will help immunize the ABF market from the usual boom-and-bust cycles of the broader semiconductor industry.
Chipmakers are increasing investments in select ABF suppliers
Given the dual constraints of tight capacity and lack of high-quality ABF manufacturers, leading chipmakers are finding creative ways to fix this ongoing ABF-shortage problem, and one solution has been forming partnerships with key ABF suppliers. Semiconductor companies are now investing their own capital into increasing capacity at ABF suppliers in order to ensure future access to product. In addition, as the next generation of chip design becomes increasingly complex, ABF players with the expertise for producing advanced substrate material are reaping more attention and pricing power.
Accordingly, a number of chipmaking giants — among them Intel, AMD and Nvidia — have subsidized roughly 50% of the capital-expansion projects of four key high-end ABF players (Ibiden, Shinko, Unimicron and AT&S) due to their ability to handle the technical complexity required for successful and precise advanced substrate production processes.
In addition, these highly sought-after ABF makers are becoming entrenched not only in their customers' manufacturing process, but also in research and development. This makes ABF materials even less fungible across suppliers. Chipmakers' level of capital investment and partnership has resulted in high barriers to entry for the advanced substrates market, further distinguishing higher-quality ABF manufacturers from the rest of the pack.
Investment Implications
Bourgeoning trends toward more digitization, cloud computing, electric vehicles and others are poised to fuel the need for more high-performance computing semiconductor chips, and that will ultimately support the rising demand growth for advanced substrate packaging. We believe the favorable demand and supply environment will extend well beyond 2023, providing strong tailwinds for the ABF substrate market for years to come.
Through our bottom-up, company-by-company research, we believe the resulting exponential earnings and free cash flow growth will be mostly enjoyed by high-end ABF manufacturers that have monopolized the advanced substrates market. We see promising investment opportunities in these types of ABF suppliers because they possess higher-quality earnings growth, increased pricing power and wider moats, all of which should help dampen their economic sensitivity as compared with that of the overall industry. As a result, these ABF substrates companies should command higher price multiples over the coming years.
Our insights. Your inbox.
Sign up to receive timely market commentary and perspectives from our financial experts delivered to your inbox weekly.