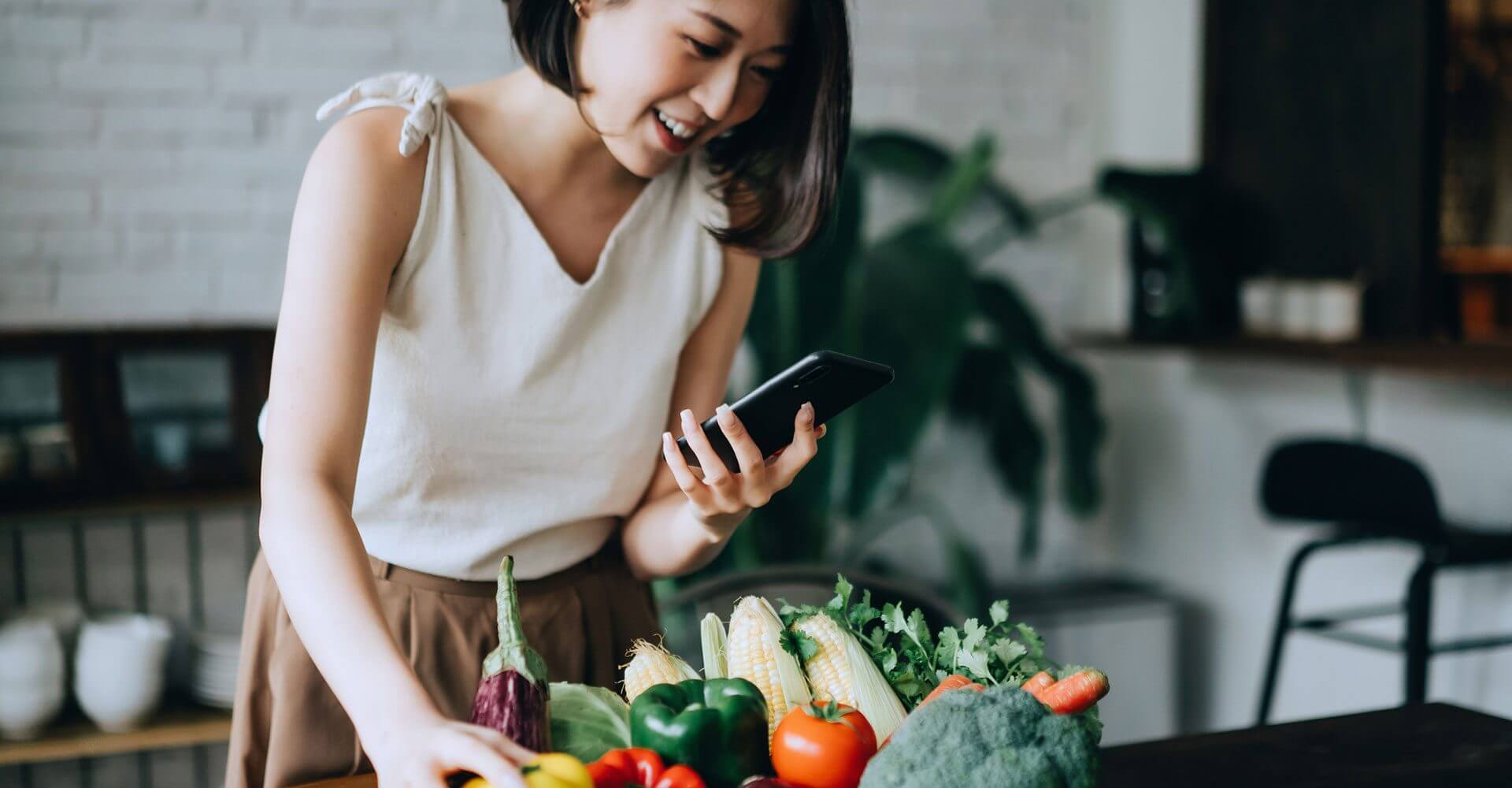 Four-hundred million Chinese millennials will soon account for more than half of China's domestic consumption. As a group, they are larger than the working populations of the U.S. and Western Europe…
Lately, investors have been focused on headlines about China's twice-a-decade congress reshuffling, looking for signs of leadership changes to come in the world's second-largest economy. But a different kind of leadership change in China is well underway – and investors should take note.
Four-hundred million Chinese millennials will soon account for more than half of China's domestic consumption. As a group, they are larger than the working populations of the U.S. and Western Europe combined. Some believe they will become the main engine for global growth. This generation leapfrogged personal computers and tablets and went straight to smartphones. In 2016, the percentage of 18- to 34-year old Chinese who owned a smartphone was at a decisive 94%.i What's noteworthy for investors is the powerful secular trend in mobile payments that's still arguably in its infancy – and appears to have the makings of a potential global megatrend.
China Is Crushing the U.S. In Mobile Payments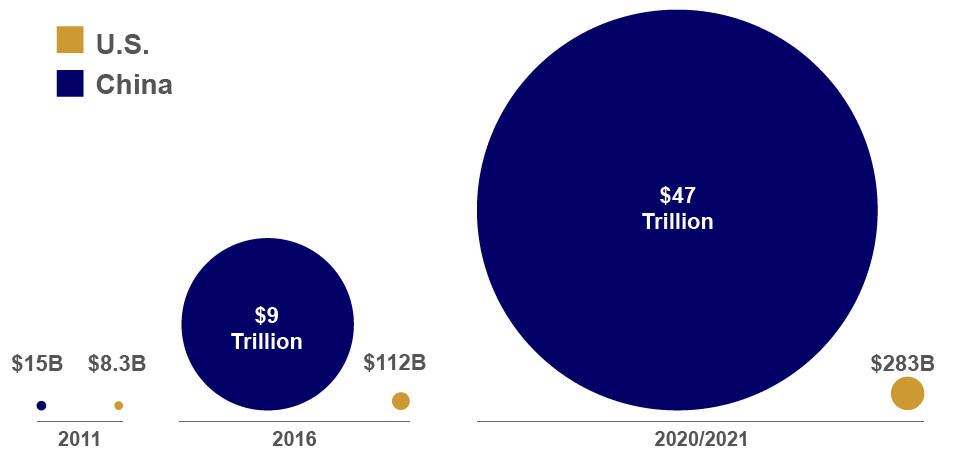 Note: Forecast for China is 2020, for U.S. is 2021
Source: iResearch (China); Forrester (U.S.); The Wall Street Journal
Unlike the U.S., China does not have an entrenched credit card culture. As such, China jumped right from cash to mobile payments. The leap to mobile payments appears to be happening in many frontier and emerging markets as well. The World Bank famously stated that the world's poorest people are more likely to have access to a mobile phone than a toilet. Moreover, it was estimated in 2015 that the number of mobile phone users in the world may have eclipsed the number of people who had bank accounts.ii All the while, an ever-growing number of people in less developed countries have been transitioning from basic mobile phones to smartphones. And many are being used as e-wallets to pay for goods, services, utilities and more. You can exchange money for almost anything, anywhere – just by using a payment app on a smartphone.
Factors Driving Mobile Payment Growth in India and China
In China, 68% of the total adult population, from all generations, reported having a smartphone in 2016, up from 58% in 2015.iii As more and more people transition from basic mobile phones to smartphones, mobile payments should continue to climb accordingly.
There are two main players dominating the mobile payments landscape in China: Alibaba and Tencent. Both of them started expanding overseas about two years ago, by following approximately 120 million Chinese who travel abroad each year. They are starting to sign partnerships with foreign merchants and investing in payment systems in other countries – India being one of them. India has the highest percent of mobile internet usage among G20 nations. And the Indian government recently banned the use of old high-value notes, effectively eliminating 86% of the country's currency in circulation.iv Mobile payments are exploding in popularity as a result, particularly since most Indian merchants do not have credit-card swiping machines.
India Leads Mobile Internet Usage Among G20 Nations
% OF INTERNET USERS ACCESSING THE INTERNET WITH SMARTPHONES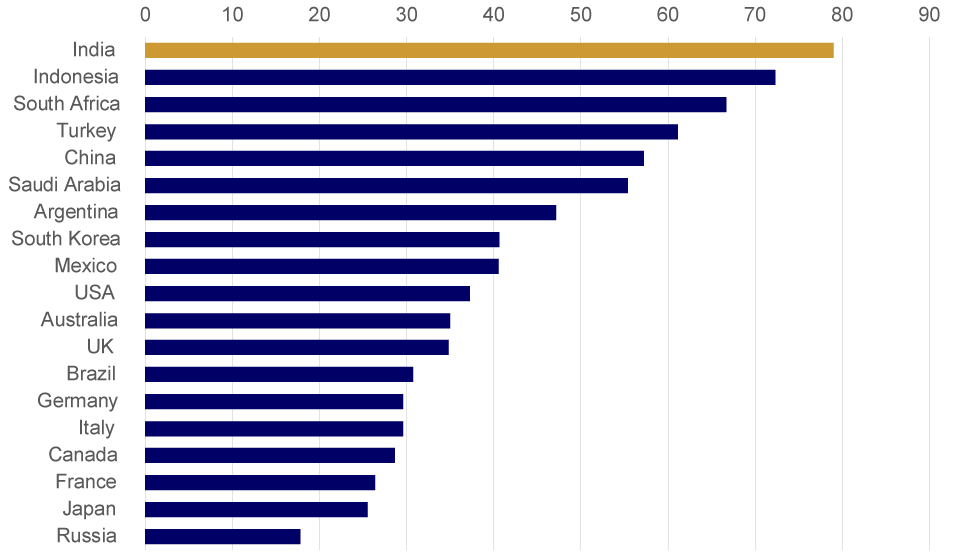 Note: The European Union is in the G20, but not all countries in the EU are in the chart.
Source: StatCounter GlobalStats, February 2017
The key for mobile payments companies is global smartphone penetration, which still has a long way to go in emerging and frontier markets. For example, despite the fact that 79% of internet users in India are accessing the internet with a smartphone, only 17% of the adult Indian population had a smartphone to begin with in 2015, and only 18% in 2016. However, the banning of large notes may accelerate smartphone usage.
The Pew Research Center graphic below illustrates that global median smartphone penetration was at 43% in 2015 (2016 estimates are above 45%). Since 85% of the world's population is in frontier and emerging markets (representing 60% of global GDP), and most developed markets already have high smartphone penetration and traditional bank accounts – the majority of growth for mobile payments will likely continue to come from less developed nations.v Growth may be significant in these markets if smartphone prices come down and wages go up. The International Monetary Fund is currently estimating that economic output in emerging markets and developing economies will accelerate from a 4.6% growth rate this year to 4.9% in 2018. That's a positive backdrop.
Smartphones Are More Common in Europe, U.S., Less So in Developing Countries
Percent of Adults Who Report Owning a Smartphone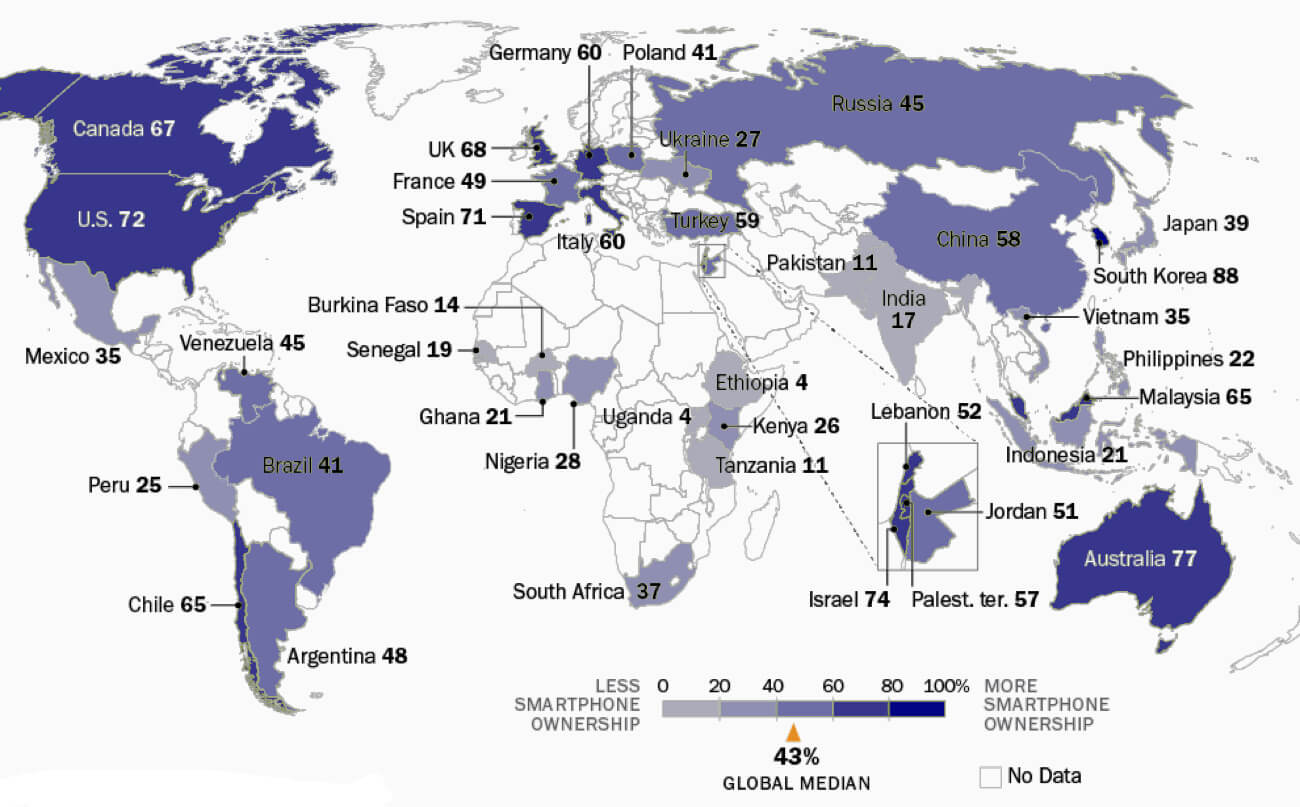 Note: Percent based on total sample.
Source: Spring 2015 Global Attitudes survey, Q71 & Q72.
Pew Research Center
China's millennials have the potential to become the main driving force for global growth for decades to come. Their ability to skip steps that developed economies have taken combined with their population size is nothing short of powerful. When you consider China's ambitious, multi-decade Belt and Road Initiative – to reopen and extend the ancient Silk Road and establish new maritime shipping lanes – you have to take note of the opportunities in mobile payment companies that will continue to increase financial inclusion in less developed economies in Asia, Africa, Europe and beyond. Mobile payment technologies could become a disruptive global megatrend as a result. As usual, there will be risks along the way, such as the formidable debt challenges in China.
Our insights. Your inbox.
Sign up to receive timely market commentary and perspectives from our financial experts delivered to your inbox weekly.